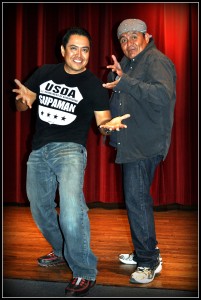 James Junes and Ernest David Tsosie III are sober and drug free performers, presenters, and
motivational speakers. For the past 10 years J&E have been presenting and performing comedy with a
positive message through out Native America and even making their way into Canada to perform their
hilarious take on Native American life and current affairs.
     Their comedy presentation has been described has a "healing medicine good for all people!" J&E have
visited many tribes in Native America with their healing comedy and strong testimonies of surviving
and defeating drug addiction, alcoholism, child hood abuse, and more. They have visited the mighty
Sioux in South Dakota, the Pueblos of New Mexico, The Rancherias of California, even the Seminoles
of Florida, and many more sharing their comedy and inspiring stories of success.
James and Ernie were voted "Comedians of the Year" at the 2009 North American Indigenous Image
Awards, an award that includes both the USA and Canadian talent. They have played and hosted some
of Native America's most popular entertainment events such as the Native American Music Awards,
the American Indian Motion Picture Awards, and the Gathering of the Nations Pow-Wow. James & Ernie have also headlined some of Native Americas première casinos and venues even playing at the world-renowned Kennedy Center in Washington, DC.
     James & Ernie have even made their mark in the movies starring in films such the award winning feature film "Mile Post 398" in which Ernie was awarded "Best Supporting Actor" at the 3nd American Indian Motion Picture Awards in San Francisco, CA and nominated at the 2009 North
American Indigenous Image Awards. The pair also produced two award winning comedy videos
"James & Ernie-fied 04" and "Fun In the Sun", as well co-founded and produced "49 Laughs Comedy
Showcase"
     Lastly James and Ernie are not only sober, drug free, and abuse free presenters and entertainers but
more importantly they are sober, drug free, and abuse free husbands, fathers, and Native American
men!
"It's great to be a Native American but it's even greater to be a sober, drug free and abuse free
Native American." – Ernest David Tsosie III